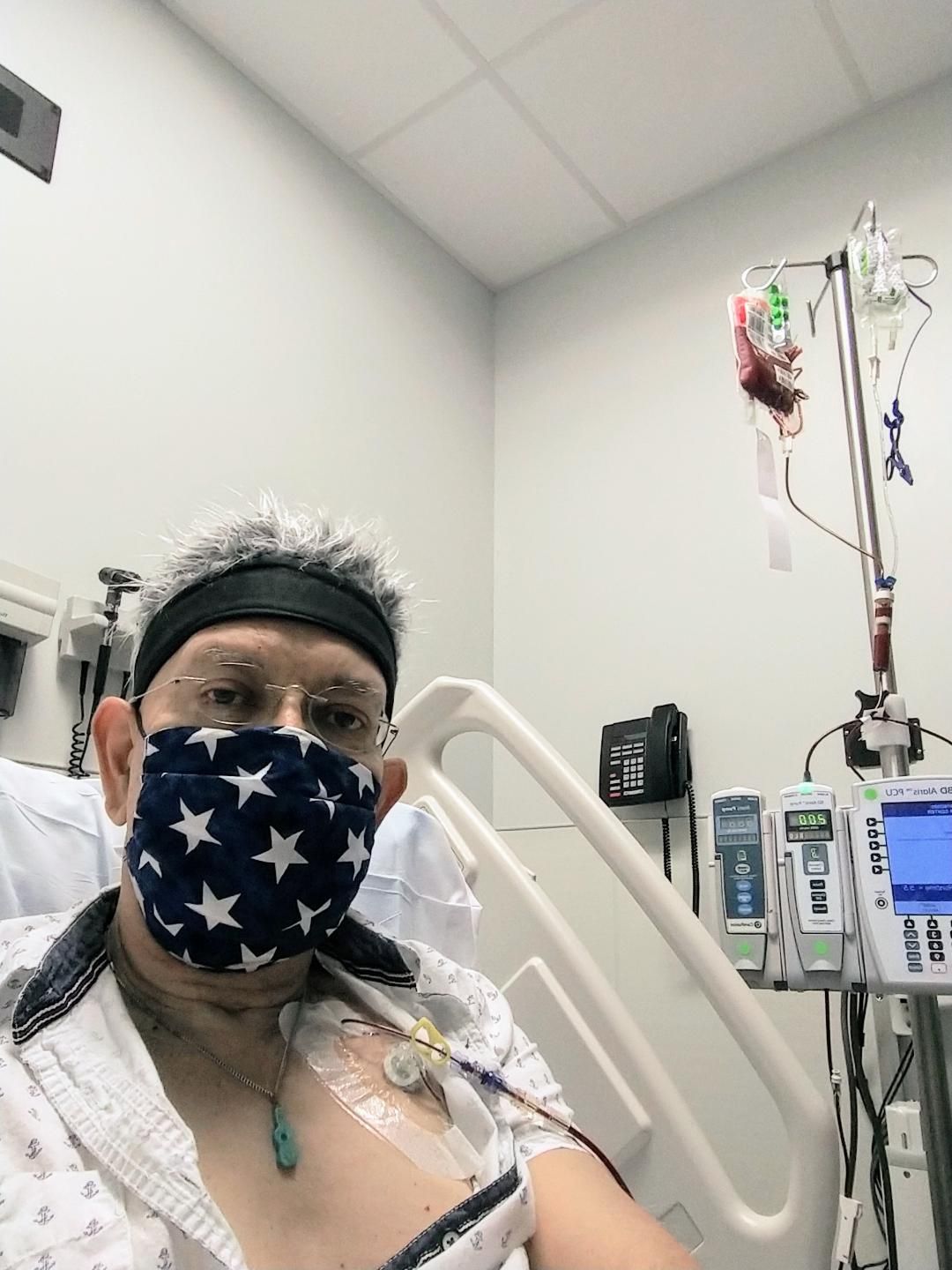 I apologize for not updating my health status for the last 4 months, but as is common in these situations, no news is good news, right?  Well gee, where do I start?  I have completed my six chemotherapy sessions, which all returned positive results as my PSA number continues to fall.  Back in late May it was up to 667 and after each chemo session it went down to 250, then a big jump to 69, then down to 25, followed by 11.55, then the last one about a month ago was 11.07.  Thankfully, I experienced almost NO side effects from the chemo or hormone therapy (Lupron) which restricts my body's ability to produce testosterone therefore allowing the estrogen to kind of take over.  I only had a few hot flashes and was emotional for about a month or so, but watched ZERO Lifetime movies and purchased no items from QVC, so that's a good thing.  In a word, I am blessed.  What can I say?
On October 28th I had my scans, one for the bones and one for my midsection.  The results of the bone scan came back "unchanged" which the doctor said was a good thing.  I had exactly the same amount of hotspots (where the cancer peeks out) as in May, which means there are no new hotspots.  This means we have that part under control.  The midsection scan showed that the tumor in my prostate is slowly shrinking - Hallelujah
The next part of my treatment is a brand new chemo pill that was JUST approved by the FDA four months ago, called Lynparza (Olaparib) and the doctor says there's something in my genetic strands called BRCA which makes me a prime candidate for this pill.  He told me, "Mr. Duran, if you were going to have cancer, you picked the best time to do that due to this pill.  I just started taking it last Tuesday and had a slight adverse reaction to it, being an annoying itch around my chest area and back of my neck, accompanied with my ears getting hot.  Thankfully, those symptoms have subsided and I feel OK now.  I have gained all of my weight back, up to 175 from 143 back in May when I had my kidney episode that required two surgeries on back to back days, and I was in deep trouble, in fear of checking OUT.  Thanks to all your prayers and donations via the Go Fund Me that my niece started, personal donations, plus sales of t-shirts and a benefit that Isabel's Amor organized, I have had little stress about being unemployed and ill, and have begun to slowly recover and gain some strength back albeit far from where I was on my last birthday, but WAY better than I was in the early part of 2020. 
You throw on top of all this, the presence of Covid-19 and that's a whole other story and struggle for someone like me whose immune system is compromised due to the low red blood cell counts (hemoglobin) brought on by the chemo.  I am now back home in Maricopa after spending 5 months at my sister Mary's house in Chandler while she basically took care of me during my most serious days of this condition that the cancer diagnosis placed on me.  Talk about the best caregiver you could ask for though, right???   I will try to rest and chill while my body hopefully continues to heal with this new medication and the hormone therapy.  I have to be careful not to bang my arms or legs on anything because we don't know how strong or weak my bones are.
Between the cancer and Covid, I simply have no projection for when I will return to performing again, so only God knows.  I cherish all of the thoughts, prayers, well wishes, and generosity I've received in the past 6 months, and I place all of my faith in God and the universe which provide all of the strength and positive attitude that I've leaned on during this crazy experience.  God bless you all...